Best of all they are free:
I have often wished I could get a great list of sites that had all the necessary tools that I would use to develop my websites. I want it to be easy to just go to the list and move from item to item as I build my site. Here is a list of my favorite free website design utilities all in one place. As I find more great tools I will add them to this list. Come back often or subscribe to my feed to see the new items as I post them.

#1 ColorPix – color picking tool
This is a small program witch has been very helpful when I have worked with colors.
ColorPix is a useful little color picker that grabs the pixel under your mouse and transforms it into a number of different color formats.
You can use the built-in magnifier to zoom in on your screen, click on a color value to copy it directly to the clipboard, and even keep ColorPix on top of all other apps and out of the way.
Download it from Color Schemer
#2 GIMP 2.6 – Graphics Tool
If you can't afford Photoshop then maybe you can afford a free copy of The GIMP. Even though this software does not do everything that Photoshop will do, it certainly will do most of the basic things that most graphic designers need to get the job done. Photoshop macros were certainly something that I wish I could use with The GIMP. On the flip side I found this software quite quick and easy to use. There is also a great deal of help available in the GIMP user world.
#3 Font Viewer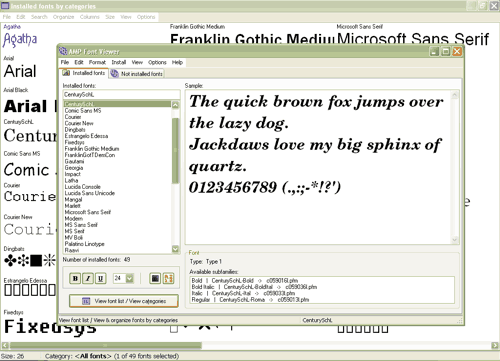 This program is great at viewing the installed fonts on your computer. It is easy to use. I really like the way I can see almost every font I have in an entire window. It supports grouping into a database of categories which allows you to find that perfect font again and again. I have used this program over and over again.
This software is free to use and worth every penny. If you want to you can donate to the cause. You can download AMP Font Viewer and try it for yourself. The installation is easy and fast.
#4 WordPress 3.01
This list would not be complete if I did not include WordPress in the list of fantastic website design tools. In fact I have yet to find anything to really complain about with WordPress. It is great at blogging which was its original design purpose. It has evolved to be an awesome method for building complete content management websites. E-Commerce does not seam to be beyond its grasp.
There is so much it handles in the back ground and with the plug-ins there is no limit to its configuration. I believe this software is just at the beginnings of what it will accomplish for the world of website development. Many believe that the days of the static web page are numbered.
#5 Image Map Tool
Nothing is more daunting than building an image map for your website. This online tool will make it easy. Weather your image is in CSS or HTML this map software will do the trick. I like it and give it a thumbs up.
Online Image Map Tool – Upload your image, map it, get your code!
#6 Free CSS Templates
For inspiration if nothing else this site is great at providing free templates for use on your sites and blogs.
#7 Color scheme generator
I have looked at a lot of Color scheme generators and this is one of the better ones. This handy, little tool has helped to make many of my sites look as good as they do. Not only can you get the hex color code from the color wheel, but you can generate a color scheme for use on your site.